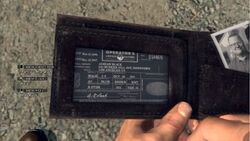 Evidence, better known as clues, is one of the main gameplay features in L.A. Noire. Evidence is used for the game's investigative part and are the most important items to find whilst trying to solve a case. They are found in crime scenes and at interrogations during all cases, and will help Cole Phelps to solve it. To find evidence in crime scenes, Phelps has to investigate the crime scene or the victim's body (if there is one) and interact with suspicious objects, that may lead him to further investigation. The evidence during interrogation are obtained by simply choosing the right answers during the interview, causing the suspect or witness to start talking the truth, or reveal what he/she is hiding. In both situations, there are several things that may aid Phelps while looking for evidence.
Notes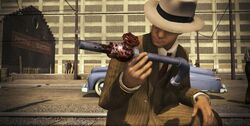 As Phelps finds more evidence, he will have more options during the case's interrogations.
Partners can also find evidence. If they find something interesting, they will call Phelps to take a look.
Main pieces of evidence are easier to find, while the secondary ones are harder.
Most of the evidence at a Homicide crime scene is usually found on top of the victim's body.
The intuition points you receive may be used to highlight evidence at the crime scene, and when used, will show magnifying glasses on the minimap indicating unfound evidence.
Several objects and elements are previously posted by the guards, which facilitates the search.
The audio can also help the player to find evidence, as the background music is removed when all evidence is found and a little sound effect is heard when something looks suspicious.
Sometimes the newspaper will appear in the crime scene, the music will not stop until you have viewed it.
During a case, all evidence found will be noted inside of Phelps' notebook.
Gallery