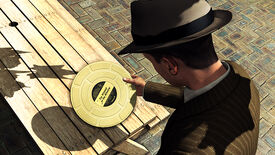 Gold Film Reels are collectible items in L.A. Noire. There are 50 canisters in Los Angeles, all of them with names of films from the 1940s and '50s. Finding all of them will reward the player with the Hollywoodland achievement/trophy.
Films
If you are unsure about which ones you have collected already, have a look at your L.A. Noire Checklist page on the Rockstar Games Social Club website. The checklist shows your progress towards 100% completion. Click the Los Angeles map and select the 'Film Reels' map filter. The reels which you have yet to collect will be shown as black dots, the reels you have collected are the yellow dots. Hovering your mouse over the dots will show the film title and give you a clue as to its hiding place.
The film reel locations listed here are in a particular order for your convenience. The order starts at the bottom right of the map and continues North-West. It is recommended you follow this direct order.

* For a visual guide use the Map & Screenshots below.
Congratulations! You've finally found all 50 of the Gold Film Reels and unlocked the Hollywoodland Achievment/Trophy!
Trivia
Most of the Rockstar's games also have a similar system of collectible items. An example of this are the Pigeons/Seagulls of both Grand Theft Auto IV and its Episodes respectively and previous Grand Theft Autos which had hidden packages.
Many of the films that appear in the game were not released until after 1947, which is the year the game took place, making them anachronisms. However, all of the films' genres are defined as thrillers or film Noir so they were most likely inserted despite this flaw in order to go with the "Noir theme" of the game.
Map
Golden Film Reels, Map & Screenshots
Use this gallery for additional help. The Film Reels are shown just above Phelps's head.
Gallery
Video Walkthrough