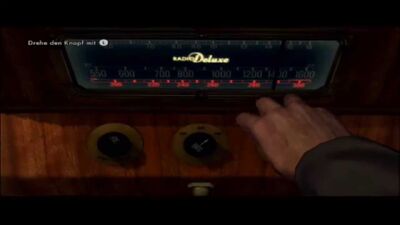 K.T.I. Radio is the sole radio station in L.A. Noire. The station plays songs from the official soundtrack, news and real old time radio dramas and commercials.
In normal/DLC cases, background music will be played while you drive at most of the times, however in "Free Roam", you can listen to the radio anytime you drive, radio broadcast can still be heard while your partner is driving.
Unlike other Rockstar games, the player has no control over the radio; it cannot be turned off and radio shows air at random times. The radio plays in most vehicles, including unmarked police vehicles but excluding marked emergency vehicles such as ambulances and patrol cars, although programming is interrupted by dispatch calls periodically, radio also plays in bars, hotels, public buildings or people's home with a radio.
Songs
Commercials
Radio Dramas and Shows
National News episodes
K.T.I. Radio has real broadcast news. These news broadcasts were extracted from actual newsreel footage of 1947.
Truman (1947-01-06 "80th Congress Convenes" be Ed Herlihy )
Hearing On Communism ( 1947-10-20"Hollywood 'Red' Probe Begins" by  Ed Herlihy)
Golden Gloves (1947-01-13 "Amatuer Sluggers" by  Ed Herlihy)
Pinball Machines (1947-01-16 - Unknown name)
Polio Fundraiser (1947-10-20 -  Dimes Drive Underway by  Ed Herlihy)
Coyote Eradication (1947-01-16 - Unknown name)
War Disposal ( 1947-01-13 - War Hazard Elemented by Ben Grauer)
Movie Train (1947-01-16 - Unknown name)
Polish Workers Revi (1947-06-02 - "Polish Girl Imported For Factory Work" by Ben Grauer)
Behind the Scenes
KTI Radio is likely based on real-life station KFI-AM. Among the similarities are the names of the owners (KFI was owned by Earle C. Anthony, Incorporated, while KTI is owned by "Eugene C. Windell Incorporated"), and that KFI was well known for airing a frost report, which is mentioned in KTI's "Farm Report" segment.
Cast
Notes
Community content is available under
CC-BY-SA
unless otherwise noted.