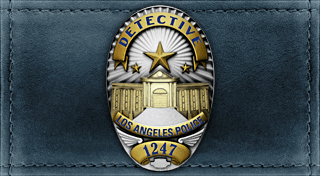 The Los Angeles Police Department (LAPD) is the police department of the city of Los Angeles, California. It was founded in 1869 and is responsible for fighting and investigating crimes within Los Angeles.
The LAPD is divided into several divisions (five of which are playable): Patrol, Vice, Traffic, Homicide, Arson, Burglary, Fraud (or Bunco), and Forgery (which may be a subdivision of the aforementioned Fraud/Bunco department). The LAPD uses cars like the Ford Police Special, International D-Series Paddywagon, and the Champion Police Special. The LAPD's arsenal comprises weapons like the M1917 Revolver, .38 Detective Revolver and the 12 gauge pump action shotgun (the only three weapons to be confirmed to be used by the LAPD in L.A. Noire). The M1917 revolver being standard issue beat cops, while most detectives use the .38 Detective Special. The 12 gauge only used during high-level priority situations like shootouts and/or robberies, and are always available in the trunk of any police car (but will not transfer to a commandeered civilian car).
The LAPD operates out of the Central Police Station (CPS), located on 1st and Hill Streets in downtown LA. Cole Phelps will visit CPS to receive cases to progress through L.A. Noire.
Detective Bureau
Members
Watch Commanders
Other Staff
Ranks
Uniform
The service uniform is dark blue and consists of a shirt, tie, trousers and cap. The LAPD badge is worn on the shirt. The dress uniform, worn by Chief William Worrell, consists of a white shirt and a dark blue jacket and trousers. Watch commanders wear white chevrons on the lower sleeve, and don't wear a hat, but the rest of their uniform is the same as Patrol wears.
Resources
Police Stations
Weaponry
Vehicles
Radio Communications
Gallery
External link
References
Community content is available under
CC-BY-SA
unless otherwise noted.