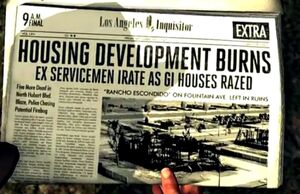 Newspapers are a vital source of information in Los Angeles in the time of L.A. Noire. The information is based around the events from Courtney Sheldon getting acquainted with Doctor Harlan Fontaine all the way up to the Suburban Redevelopment Fund's downfall.
Reading a newspaper will trigger "back-story revealing cinematics".[1]
There are a total of 13 newspapers. The game does not award an achievement or trophy for finding them all, but finding them is necessary for 100% completion. Newspapers are only accessible during regular storyline cases; they are not found in the downloaded/Complete Edition bonus cases or in free roam.
Newspapers
In-Game Locations of Events (Work In Progress)
FAMILY BURNT TO DEATH: COPS SAY HOUSE FIRE DEATHS ARE SUSPICIOUS; Dr Fontaine's Surgery, where Harlan Fontaine is speaking to Ira Hogeboom over the phone, the latter is in a red-coloured payphone booth in a park directly opposite.
THE FACE OF PROGRESS: SAYS MAYOR OF DEVELOPER LELAND MONROE; the Brown Derby (inaccessible but nonetheless has a detailed interior seen through the transparent windows of the restaurant's non-functional doors, implying it was intended to be made available to explore.
CRUSADE AGAINST CORRUPTION': PETERSEN PLEDGES TO CLEAN UP LAPD; keep to the east side of the road from Wilshire Police Station and head up until you reach the corner of Beverly and Vermont.
Video Walkthrough
Interactive Map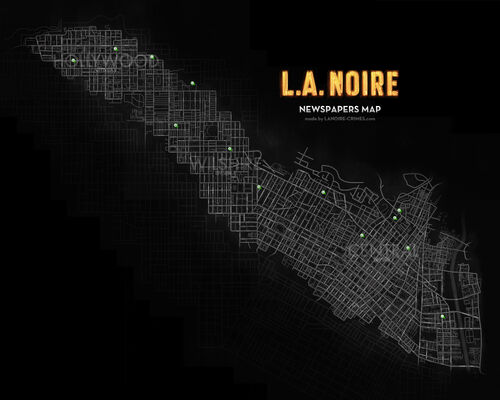 Trivia
In Red Dead Redemption (another game published by Rockstar Games), you can only purchase and read newspapers to be updated on the game world's events. This was the first time that Newspapers appeared readable in a Rockstar Games' game.
A Different Kind of War is the only time when two newspapers are featured in the same case.
The newspapers at Leland Monroe's Mansion and Rapid Exterminators are the only two that can be read while playing as Jack Kelso.
In the remaster, the newspaper cutscenes are no longer skippable.
References
Stings
Here are the sound effects that play when you obtain a newspaper: 1:
2:
Intro 1:
Intro 2: