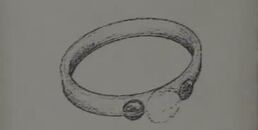 "It would appear that someone has hocked a rose gold wedding ring and matching engagement ring. Sound familiar?"
―Captain James Donnelly
The Pawned Rings are pieces of evidence in L.A. Noire, they are referenced in "The Golden Butterfly" case.
Background
The pawned rings originally belonged to Deidre Moller as her engagement and wedding ring. A rose gold wedding band worth twenty two karat gold and a matching diamond and ruby engagement ring from Hartfield's Jewelry Store. Deidre wore other pieces of fancy jewelry such as her Lady Elgin watch and golden butterfly brooch, matching her expensive taste in jewelry.
Events of L.A. Noire
After Deidre was murdered, her jewelry was stolen including her wedding and engagement rings, which were forcibly removed from her finger. Detectives Cole Phelps and Rusty Galloway investigated the murder and eventually seemingly solved the case by arresting and charging Eli Rooney. They even recovered the butterfly brooch from Rooney but failed to find Deidre's Elgin watch and wedding and engagement rings.
The Homicide Department later learned that the rings were pawned at Globe Loan & Jewelry Co., a local store for $50. Phelps and Galloway coerced the store owner to accept $10 for the rings. Bremner could not identify the seller of the rings, furthermore the seller gave a fake name and address. Nonetheless, Phelps began to realize that the a serial killer was loose and it became increasingly evident that the killer was connected to multiple murders, including Deidre's and Elizabeth Short's.
Case Appearance
Homicide
Community content is available under
CC-BY-SA
unless otherwise noted.