Spoiler Warning
Plot details follow, read at your own risk.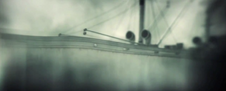 The SS Coolridge
is a ship in the United States Navy featured in
L.A. Noire
.
Background
After the Second World War, the SS Coolridge was tasked with transporting a large quantity of U.S. Army surplus supplies, as well as U.S. soldiers, sailors and Marines to the United States.
Coolridge Heist
Members of Lieutenant Cole Phelps' unit, the 6th Marine Regiment, were on board the SS Coolridge. Several members of the 6th Marines planned to steal some of the supplies, and make away with hundreds of thousands of dollars in Army surplus morphine. The men also made off with a large quantity of cigarettes, ammunition, including hundreds of Thompson M1s and BARs. The members of the Coolridge Heist were later targeted by men of Mickey Cohen's gang.
Trivia
Though the "SS Coolridge" is/was a fictional transport-ship, the U.S. Navy did have an ocean liner named the SS President Coolidge - which was sunk on October 26, 1942, by an enemy mine.
Though the SS Coolridge is largely unseen, a small view of the ship is seen in flashback cut-scenes.
Gallery
Community content is available under
CC-BY-SA
unless otherwise noted.