Street Crimes, also referred to as Side Missions or Unassigned Cases, are a feature in L.A. Noire. As Cole drives to and from cases, gunshots or other random skirmishes will occur on the streets of L.A.. The police dispatcher will sometimes signal the detectives to help in a gun battle or at a bank robbery to assist the LAPD in protecting the citizens of the city.
The many unassigned cases will range from minor crimes—such as petty theft, peace disturbances, and burglaries—to more serious ones, like armed robberies or gang disputes. Each desk has its own set of Street Crimes. If you miss any during your playthrough, you can attempt to get them all by replaying the respective desk in the free-roaming Streets of L.A. under "Cases" in the main menu. The dispatch calls come in quick succession, unlike in Story mode. In Free Roam, you can quickly switch between Street Crimes on the Map.
Street Crimes appear under pedestrian icons on the Map, and are color-coded like so: red Street Crime icons indicate uncompleted cases, a yellow icon indicates a currently selected Street Crime, and completed cases display as white icons. If all Street Crimes on a desk are completed, a message on the top left of the screen will occasionally appear to remind you. Completion of one Street Crime will unlock the Achievement/Trophy "A Cop on Every Corner". Completion of 20 will unlock "Johnny on the Spot", and completion of all 40 will unlock "The Long Arm of the Law".
There are a total of 40 Street Crimes in L.A Noire in all desks except Patrol, which is the only desk where Streets of L.A. isn't available.
List of cases
There are a total of twelve street crimes unlocked on the Traffic desk.
There are a total of thirteen street crimes unlocked on the Homicide desk.
There are a total of ten street crimes unlocked on the Vice desk.
There are a total of five street crimes unlocked on the Arson desk.
Street Crimes Map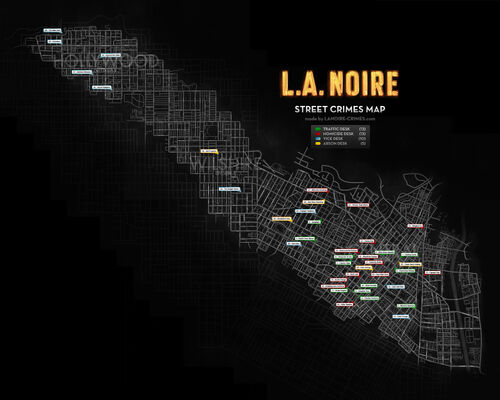 Notes
Video Walkthrough