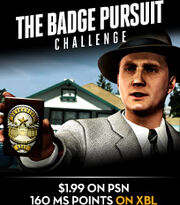 The Badge Pursuit Challenge is a bonus side quest in L.A. Noire.
It was available if you pre-ordered the game from EB Games/GameStop in the U.S., Canada and Australia, from Game in the U.K. or from Bol.com and Free Record Shop in the Netherlands.
On 31 May 2011, it was made available as downloadable content for purchase as part of the L.A. Noire Rockstar Pass bundle and as a standalone piece of DLC for 160 Microsoft Points/£1.50. It is also now a part of the Complete Edition version of the game as released for the PC, PS3 and Xbox 360 in 2011.
Description
Hidden around L.A. Noire's beautiful recreation of 1947 Los Angeles are twenty police badges to find and collect. If you can find all 20 of these badges, the dapper Button Man suit will be unlocked which provides additional ammunition for all weapons. Each badge also provides five experience points which help to unlock intuition points — special credits that can be used to give Phelps a key investigative insight whenever you need it most.
Filmstrips
Copies of L.A. Noire purchased from Gamestop or Game which include the Badge Pursuit Challenge also included an envelope in the game's packaging. The envelope contains seven thirty-five-millimetre filmstrip negatives with three images on each. Each of the images (except one, which shows only the L.A. Noire logo) shows a location within the game where one of the twenty badges can be found. The PS3 and Xbox 360 releases of the Complete Edition do not include the filmstrips.
The negatives can also be viewed on the Badge Pursuit Challenge page of the Rockstar Games Social Club website. Hovering your mouse over the pictures will reveal a clue as to the badges precise hiding place.
Locations
The badge locations are listed here in the order they appear on the filmstrips. All badges are hidden at landmarks within the game. Unlike the film reels (and most collectibles in Rockstar games), some badges are located inside buildings.
Tip to locating these badges: look out for a bright glint of sun reflecting off the badge as you pass it by, the distinctive "clue found" music will chime as you get closer.
Strangely, the badge you find will feature the same number #2483.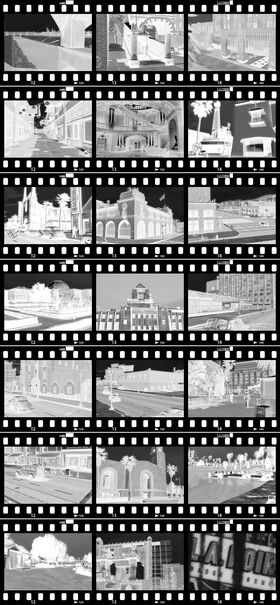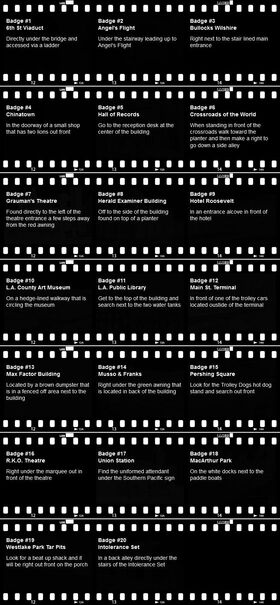 * For a visual guide use the Map & Screenshots below.


Map
Police Badges, Map & Screenshots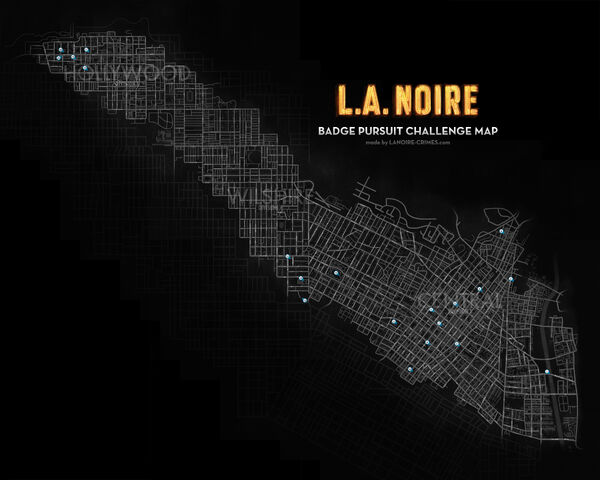 Video Walkthroughs
Community content is available under
CC-BY-SA
unless otherwise noted.