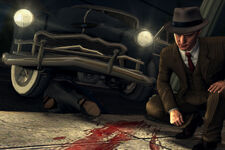 "Christ, and they say working Traffic is like watching paint dry."
―Stefan Bekowsky
The
Traffic
Desk is a Department of the
Los Angeles Police Department
in
L.A. Noire
. Traffic is concerned with hit-and-runs, stolen vehicles, felony driving, illegal street racing, and collision reports involving serious injuries or fatalities where a crime may have been involved.
Cole Phelps is promoted to Detective of the Traffic desk from Patrol Officer after proving himself to be a good investigator. Cole's partner in Traffic is Detective Stefan Bekowsky, out of the Central Police Station. The captain of the department is Gordon Leary.
After Cole gets promoted to Traffic, he very quickly discovers a dark world where automobiles are used as instruments of murder, deception and violent crimes. Reporting to the scene of a mysterious abandoned bloody vehicle (in the case "The Driver's Seat"), or - for example in "The Fallen Idol" case, to an apparent accident site where witness accounts just don't add up - odd clues and flimsy personal accounts may lead to a far more sinister truth.
Members
Cases